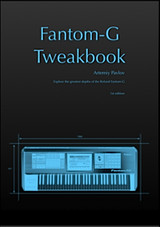 Sinevibes has released the Fantom-G Tweakbook, a new book teaching advanced sound design and music production with Roland Fantom-G.
The Fantom-G Tweakbook is intended for people who want to explore the greatest depths of their Fantom-G synthesizers from Roland. It is a truly immense knowledge resource of many different techniques and secrets on sound design and music production, with lots of illustrations and example sounds provided in each tutorial article.
Fantom-G Tweakbook features
56 articles, 70 patches, additional samples and audio examples.
Covers an overwhelming amount of topics, including subtractive, additive and vector synthesis, ring modulation, analog sound replication, envelope, LFO and matrix modulation, using effect processors as synthesis blocks, sampling and re-sampling, advanced processing of internal and external sounds, audio post-production, using in conjunction with other gear and much beyond.
Helpful introductory tutorials, dictionary and patch parameter map, make the Fantom-G Tweakbook is as easy to understand to newbies as it is to experienced Roland users.
The Fantom-G Tweakbook is available as a download for $19 USD. It can also be purchased with a 50% discount along with any of the Sinevibes Fantom-G Sound Expansion bundle packs.
Visit Sinevibes for more information, a book preview download and audio demos.