Sinevibes has announced the release of Singularity, a delay effect plug-in for Mac.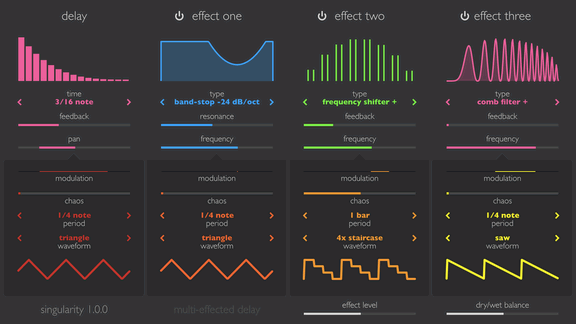 It starts with a tempo-synchronised feedback delay line capable of true stereo panning, and its tail is then sent into three extremely capable effect units connected in series. Each of these processors includes a rich selection of different algorithms: from filters, phasers and choruses to digital- and analog-style distortion, frequency shifter and granulator.

In addition to all this, Singularity has four modulation generators for parameter animation – all of which lets you create extremely sophisticated, out-of-this-world delay and echo effects.
Singularity features
Feedback delay line with tempo-synchronised time and true stereo panning.
Three independent effect processors with a total of 22 different algorithms and variations: low-pass, high-pass, band-pass and band-stop filters, 8-stage and 16-stage phaser, barber-pole phaser, decimator, analog drive, circuit-bent filter, frequency shifter, comb filter, 1-voice and 3-voice chorus, granulator.
Four modulation generators each with 8 waveforms and adjustable periodic chaos.
Advanced transport sync algorithm with support for tempo and time signature automation.
Singularity for Mac (AU) is available for purchase for $39 USD.
More information: Sinevibes / Singularity