Sinevibes has announced version 2.0 of its Torsion synthesizer AudioUnit plugin for Mac OS X.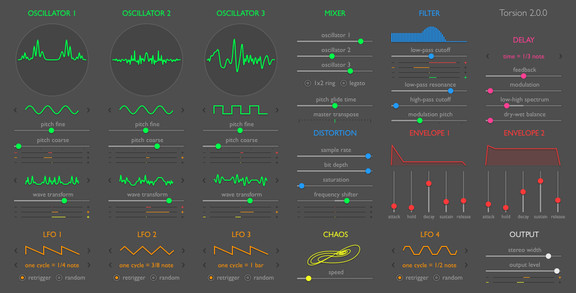 The hybrid synth received a completely new user interface with much improved colors and ease of use, multiple new modulation and processing options, as well as new factory presets.
Changes in Torsion v2.0
Entirely new user interface with more convenient layout, drastically increased ease of use, and better visibility in daylight.
Separate fine pitch control per each oscillator.
Oscillator pitch modulation range increased to three octaves (up from one).
Oscillator level now affects the waveform display.
New trapezoid LFO waveform.
Added 1/48 note LFO rate option.
New distortion effects module with sample rate and bit depth reduction, analog-style saturation, and Bode frequency shifter.
New delay effects module with stereo modulation and dual filter.
Disabling of idle oscillators and effect modules to reduce processor load.
20 new preset patches.
User manual in PDF format.
Torsion 2.0 is available to purchase for $49 USD. The update is free to all existing users.