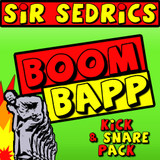 Sir Sedric has released the BoomBapp ReFill, a free Reason ReFill featuring 150 Dirty Hip Hop Kick and Snare Samples.
These are 150 of the grimiest, dirt-nastiest drums you're gonna hear. A no bullshit pack of Kicks and Snares with extra flavor, extra sauce and double-extra funk.

Each of these Booms and Bapps has been painstakingly crafted to suit grimy, gutter-born, raw and hard-hitting Hip-Hop and Rap tracks, but it doesn't stop there. These could also be at home in any production that needs powerful, energetic backbeats such as House, Trance, Acid, Electro, DnB, Dubstep…even Pop!
The BoomBapp ReFill is available to download at no cost.
Visit Sir Sedric for more information.