SkoogMusic has released version 1.1.1 of the Skoog App for iOS, a free iPad interface software for the Skoog 2.0 Bluetooth SMART hardware controller.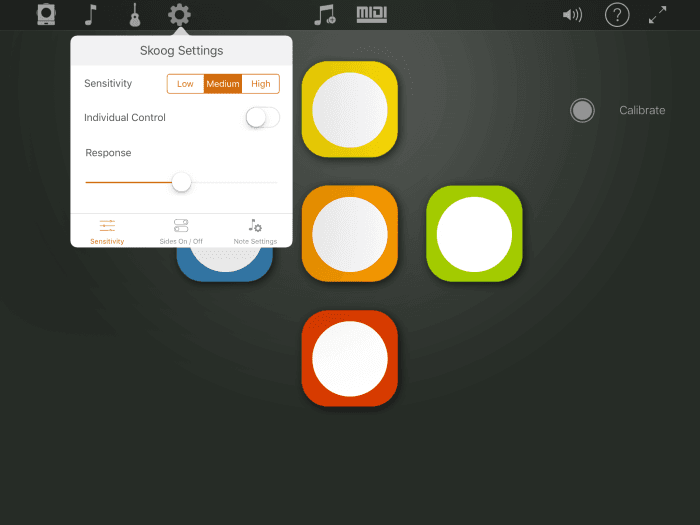 We've been working hard behind the scenes to make the App more stable, easier to use and to get rid of any bugs that were lurking around. The new App also features improved sensitivity.

We've added in a more comprehensive setup process, allowing anyone to setup their Skoog from scratch to perfectly suit their needs in minutes. There is a lot more support in the app, such as user guides and tutorial videos, to help you really make the most of your Skoog.
Changes in Skoog App v1.1.1
New setup process to help you get up & running with your Skoog.
Improved 'Help' section with useful tips to explain the settings for your Skoog.
Refreshed layout for better navigation.
In-built guides, tutorials and trouble shooting.
New & improved instrument sounds.
New note selector for quicker custom note setting.
Simplified MIDI integration for easier use with 3rd party apps, such as GarageBand.
In-App User Guides.
In-App User Guides.
New sensitivity modes, giving more sensitivity and greater control when you're playing.
Increased responsiveness, especially for lighter touch.
Supports dynamic text for users utilising Accessibility features, such as larger text.
New in-app game to help you learn how to play your Skoog.
Spotify integration now fixed (Spotify Premium account still required).
Tonic, octave & scale settings being maintained across new app sessions – data selection will now be preserved across new app sessions.
The Skoog App for iPad & iPhone is a free download from the iTunes App Store.
More information: SkoogMusic