SKYLIFE has released version 4.8 of SampleRobot Pro, a comprehensive update for the top-of-the-line auto-sampling software for Windows and Mac.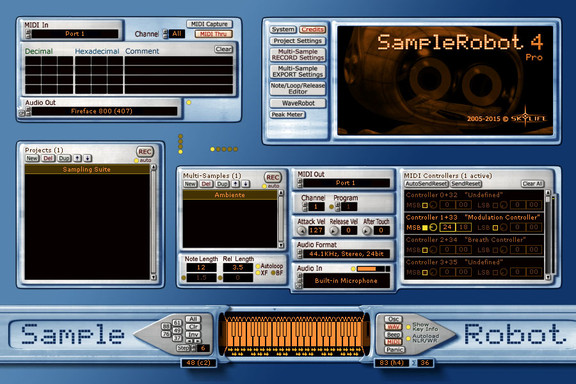 It includes unique functions like a supersize WaveRobot sample editing window and enhanced support for up to 128 velocity layers per Project.

This version 4.8 upgrade is free of charge for all users of SampleRobot 4 Pro. Furthermore new customers will receive a free upgrade token to version 5 of SampleRobot Pro, to be released in 2015/Q01.
Changes in SampleRobot Pro v4.8
Support for up to 128 velocity layers in a single Project.
Enhanced velocity auto-mapping for all multi-sample export formats.
Supersize WaveRobot window for screen resolutions up to 3200×2000 pixels.
Advanced audio transient recognition for elimination of silence at sample start.
Improved Mac OSX framework, compatible with OS 10.10 Yosemite.
Optimized activation process.
Includes 5 new skins and color schemes.
Includes 4 additional Premium Multisample Banks in SF2 format: AMBIENTE, NEURONIC, ELEKTRON and NOIZCUTZ.
Various optimizations in respect to graphical user interface and functionality.
Comes with free upgrade token to version 5 of SampleRobot Pro for all new customers.
Includes 4 cross-platform installation licenses.
SampleRobot 4 Pro is available for purchase for $349 USD/249 EUR/£219 GBP. The update is free for all users of SampleRobot 4 Pro.
SKYLIFE has also released 4 free sample packs for KORG microSAMPLER users.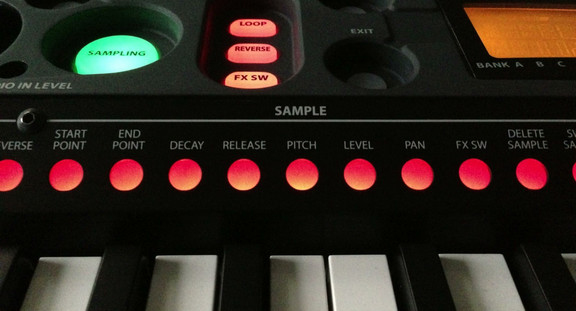 The ambient loops and airy beats from the AMBIENTE sample bank fuse into inspiring mood tracks. This is an atmospheric sound construction kit of the special kind.

Sounds from the legendary Hartmann Neuron Synthesizer form the heart of the NEURONIC sample set. Rich modulated textures, extraordinary morph sounds and neuronic effects reminiscent of film scores enrich every music production.

In the ELEKTRON bank pulsating analog sounds and a sampled analog drum synthesizer let the microSAMPLER become a muscle machine for all sorts of electronic music. The single samples cut through the mix already but you can layer them synced in tempo for full impact.

For the sample bank NOIZCUTZ sounds from an old multi-band transistor radio were captured with SampleRobot. You can find all kinds of short and long wave sweeps, typical noise patterns and sound shreds from the flood of radio waves surrounding us every day.
The packs are available to download at no charge. If you don't own the microSAMPLER, you can still extract the samples with Korg's free editor software.
More information: SampleRobot