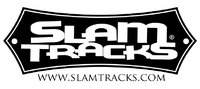 Slam Tracks has announced the release of Metal MIDI Drum Loops Groove Pack 1, a collection of metal MIDI drum loops for classic and modern metal styles.
Metal MIDI Drum Loops Groove Pack 1 showcases the ferocity, attitude, and speed your music needs to create aggressive metal tracks. Double kicks on speed, double-times, half-times, syncopated or straight, the beast has been unleashed, and is ready to inspire your next metal track.

Styles range from classic trash to contemporary metal, influenced by a top-shelf list of metal drummers like Lombardo, Hoglan, and Travis. So, get ready for true metal. Hundreds of grooves that cover the metal genre with natural feel and aggression – ready to drag and drop into the drum VI of your choice.

Push your next metal project to the max with the new Metal MIDI Drum Loops Groove Pack 1 from Slam Tracks.
Slam Tracks Metal MIDI Drum Loops and Fills 1 Pack features
750+ MIDI drum loops for modern and classic metal styles.
Fast, loud and aggressive two, four and eight measure MIDI loops.
Tempos from 60 to 200 BPM.
1, 2, 4 and 8 measure grooves.
Straight and triplet-based groove patterns.
Outstanding feel and realism.
All loops recorded and played live – not quantized.
Standard MIDI format – General MIDI for use in: Addictive Drums, BFD, BFD2, Battery, EZdrummer, Superior and Superior 2, and more.
Optimized for 1 Kick, 1 Snare, 2 Rack Toms, 2 Floor Toms, 1 Hihat, 3 Crash Cymbals, 2 Chinas and 1 Ride Cymbal.
Metal MIDI Drum Loops Groove Pack 1 is available to purchase as a download for $19.95 USD.
More information: Slam Tracks / Metal MIDI Drum Loops Groove Pack 1