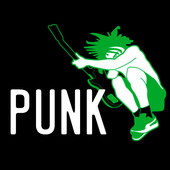 Slam Tracks has announced the release of Punk MIDI Drum Loops and Fills Pack 1, a collection of over 500 slamming punk grooves and fills for classic and modern punk styles.
Punk MIDI Drum Loops and Fill Pack 1 showcases the ferocity, attitude, and speed your music needs to create the hardest-hitting punk tracks around. The fills and fill variations alone are worth adding to your collection, but we've included many of the staple grooves that will drive any punk style project.

Push your next punk or power pop project to the max with the new Punk MIDI Drum Loops and Fills Pack 1 release. If you need slamming punk drum tracks in your music, then Slam Tracks Punk MIDI Drum Groove and Fill Pack 1 is the one to have in your studio.
Punk MIDI Drum Loops and Fills Pack 1 features
500+ MIDI royalty free MIDI drum loops for modern and classic punk styles.
Fast, loud and aggressive two, four and eight measure MIDI loops.
Tempos from 130 to 200+ BPM.
1, 2, 4 and 8 measure fills.
Variety of fill types – Intro, stops, breaks, and transition fills.
Straight and triplet-based fill patterns.
Outstanding feel and realism.
All loops recorded and played live – not quantized.
Standard MIDI format – General MIDI for use in: Addictive Drums, BFD, BFD2, Battery, EZdrummer, Superior and Superior 2, and more.
is available now as an instant download for $19.95 USD.
More information: Slam Tracks / Punk MIDI Drum Loops and Fills Pack 1