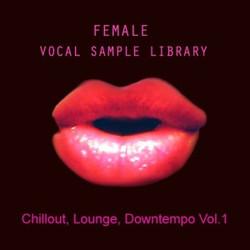 Softrave has launched Female Vocal Sample Library – Chillout, Lounge, Downtempo Vol.1, a collection of vocal samples.
The message is Love, Emotional Peace and Relaxation. 400 of the most most amazing, peaceful and relaxing, love inspiring female vocal samples you may ever hear. These ambient samples drip like sweet musical nectar!

From Chillout, Downtempo, to lounge, 70/ 80/ 90/100 Beats per minute (BPM), it's all here. Vibes from the lounge for when you want to slow down and feel the love. This awesome collection of samples contains a vast array of female vocal power and prowess.

The magical voice is that of Anna, from The Laser Moon Music Project, her velvety vocals can only be described as chocolate covered cherries dripping honey down your spine in an intoxicating array of notes that flow from her divine lips to your ears. Fall in love with some downtempo, down beat, chill music that will light your soul and your heart ablaze while relaxing and mellowing your mixes. Smooth, chill, and smoking hot! These samples are a must have!
The sample pack is available to purchase for $29.99 USD / 21.99 EUR. Individual packs of 100 vocal samples from this sample library are also sold separately at $9.99 USD each.
More information: Chillout, Lounge, Downtempo Vol. 1