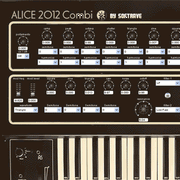 Softrave has updated its Alice 2012 virtual synthesizer instrument for Windows to version 1.1.
Softrave now offer pack of two synths. Alice 2012 is upgraded to version 1.1 – Controlled analog drift is added for filters to add more vintage touch when its necessary.

Alice 2012 Combi is based on waveform samples from Alice 1387 vintage analog soviet synth produced in 80 's and extended with 8 more digital oscillators – so in total you have 12 waveforms. You can assign depth and quality of analog drift of generators and filters to make sounds more warm, oldschool and alive. Mono| portamento function work only for upper section of generators.
The Alice 2012/Alice 2012 Combi pack is available to purchase for 11 EUR / $15 USD (Windows VST). Previous customers of Alice 2012 will receive the update free of charge.
More information: Softrave