Softube has announced the release of its new dual-source dream-synth Parallels, a sleek, powerful and creative software synthesizer with endless possibilities.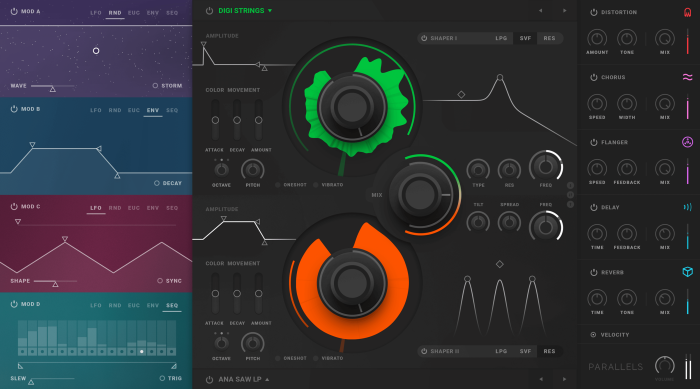 In Stockholm, Sweden, there's a synth emporium like no other – a store with such vibrancy, such range, such color, that you'd need a dozen eyes and ears to take it all in. And the guy who runs it is no ordinary guy. He's special, in all the best ways. His imagination fizzes and crackles with delight at the sounds of a million billion sparkling circuit boards.

Out of this hot-bed, this toy-box, this fantasy-factory, Parallels was born; an instrument with not one but two sound sources, each running painstakingly recorded and exquisitely calibrated multi-waveforms from every dream-machine must-have synth you could ever want, and sculpting the resulting sounds with the highest-quality Softube filters, modulators, and effects. If you're looking for inspiration and sheer sound-quality in your music, this is your golden ticket.
Parallels features
A plug-in soft-synth with dual wavescanning source sections.
Almost a hundred high-quality pre-recorded multi-waveforms.
Sonic progression within each waveform means near-infinite source-material.
Two parallel sources means blended sounds, opening up exponentially more possibilities.
Up to fourteen voices (seven per source when both sources are active).
Hundreds of expertly-created presets from world-leading synth artists, engineers, and sound designers, including Brian Transeau a.k.a. BT, Richard Devine, Inhalt, and more.
Three analogue-modelled filter types (state-variable, vactrol LPG, and resonant peaks).
Five sophisticated types of modulation source; LFO, random, Euclidian sequencer, step sequencer, and envelope.
Five top-quality effects options; distortion, chorus, flanger, delay, and reverb.
Inspirational, creative, and beautiful.
Crucially, it always sounds amazing.
Parallels is available for the intro price of $129 USD from Softube and distributor Plugin Boutique (regular $149 USD). The plugin support Windows and macOS with VST/VST3, AU and AAX formats.