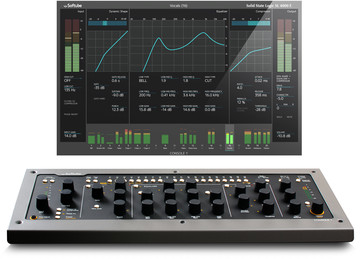 Softube has released version 2.1.6 of the Console 1 software for Mac OS X, including CPU optimizations and bug fixes.
Current owners of Softube plug-ins, in particular Console 1 owners, are advised to download and install the new software version. The update includes improvements and bug fixes, mainly for Console 1 but also slight CPU improvements to the entire Softube product line.
Changes in v2.1.6
Updated with GUI bug fixes. Fixes problems with line breaks in dialogs, and affects track meters.
Console 1 OSD: Changed help texts in All mode, changed ugly-looking ellipsis in Group text.
Console 1 OSD: The left (instead) of right meter is used in mono mode. Looks better that way.
Console 1 OSD: Curves filtering now as fast as the rest of the GUI.
Apply pre-2.1.6 Console 1 overhead optimizations to other plug-ins.
Summit Audio EQF-100: Implement curve display for Console 1.
Console 1: Fix bug where switching between running a plug-in in mono and stereo would not update mono/stereo state in OSD correctly.
Console 1: Fix Pro Tools compare button bugs when comparing against Factory Default setting.
Optimizations in parameter handling, sidechain overhead, bypass overhead, VST 2 interface overhead, and some DSP code.
Code cleanups.
Console 1 SSL 4000 Dynamic Shaper: Correct stereo merge bug, optimize.
Console 1: Optimize overhead when sections are turned off.
FET Compressor/Tonelux Tilt/Tonelux Tilt Live: Apply various optimizations from Console 1.
[2.1.5] Console 1: Fix Filters to Compressor and External Sidechain to Compressor bug.
[2.1.5] Console 1 plug-in: Fix a small memory leak.
[2.1.4] All plug-ins: Fix a possible crash when multiple plug-in windows for a single plug-in type are open at the same time and one of them is closed.
[2.1.4] Console 1 OSD: Fix a small memory leak.
[2.1.3] Console 1: Fix a bug relating to shape meter, compressor meter, and audio malfunctions in some situations when running at other sample frequencies than 44.1 kHz in certain DAWs.
[2.1.3] Console 1: Turn off All when going out of Load Strip/Shape/EQ/Compressor or History mode.
The new software version is now available to download from Softube.
More information: Softube