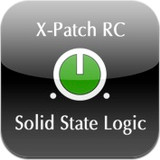 Solid State Logic has released the X-Patch Remote Control, a free iPhone App for SSL's X-Patch analogue routing matrix.
The X-Patch Remote Control from Solid State Logic® searches a network over Wi-Fi for SSL's X-Patch devices and then lists and recalls the in-built Logictivity® presets. There are up to 128 presets per X-Patch found, and where more than one X-Patch is found, each device can be independently selected and controlled.

Solid State Logic has evolved over the past 40 years to become the world's leading manufacturer of analogue and digital audio consoles and provider of creative tools for film, audio, video and broadcast professionals.

X-Patch is designed to deliver the flexibility of plug-in style routing to boutique analogue signal processing. X-Patch allows analogue signal processing units to be built into favourite processing chains and then easily placed into signal paths, for example, favourite Mic Pre, EQ & Dynamics processors recalled as the perfect vocal chain at a single stroke.

At its heart, X-Patch is an 'intelligent' 16×16 SuperAnalogue(tm) audio routing matrix. Control of this sophisticated processing is made simple through SSL's unique Logictivity Browser; this allows the graphical creation of X-Y routes and chains with all configurations able to be saved as presets.

In a studio environment X-Patch speeds up workflow and aids creativity by reducing the constant physical re-patching required when using only a patch bay for routing. Each X-Patch unit also has local MIDI IO for connection to footswitches and other utility MIDI program change devices.
X-Patch Remote Control is available as a free download from the iTunes App Store.
More information: Solid State Logic