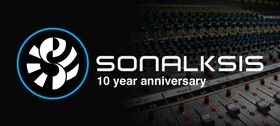 Sonalksis has announced its 10 Year Anniversary, offering a 'once in a decade' discount for a limited time.
10 years ago in Liverpool, England, the founding members of Sonalksis produced the SV-315 Equaliser plugin, the first host based processing EQ to offer professional studio quality in an affordable package 'in the box'. The specs at the time were quite remarkable, internal 64 bit audio processing and the ability to run over 80 instances on a Pentium PC or G4 Macintosh (both leading edge machines at the time).

Over the following two years the team expanded the 'Essentials Collection' to include the SV-315 Compressor and the SV-517 Analogue Gate, and then went on to produce some of the most highly respected plugins for tracking, mixing and mastering available today.

To help celebrate the first 10 years of Sonalksis we are offering a 'once in a decade' discount of 60% off all Sonalksis plugins and bundles until the end of the month!
To take advantage of this discount use coupon code DECADE60 at checkout. The promotion ends October 31st, 2012.
More information: Sonalksis