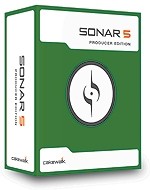 From the Cakewalk website:
SONAR 5 will be shipping in late September and will be available at select music retailers in early October.
Introducing SONAR 5 Producer Edition
Version 5 adds an arsenal of responsive instruments, more effects, and powerful editing tools including Roland® V-Vocal™ VariPhrase technology. These features are complemented by a double precision floating point engine that delivers dramatic increases in dynamic range. SONAR's pristine 64-bit audio engine, seamless and accessible even on 32-bit computers, sets new standards for digital mixing. In addition, SONAR 5 introduces ground-breaking advances in RAM and native processing power on systems running Windows XP x64 Edition.
Use the navigation bar on the left or the buttons on the bottom to explore this section and learn more about SONAR 5 Producer and Studio Edition.
New customers can pick-up a copy of SONAR 5 at select music retailers starting early October.
Key features
NEW—PSYN™ II subtractive synth, Pentagon™ I vintage analog synth, Roland® GrooveSynth™, SFZ SoundFont sampler, RXP ™ REX Player groove box
Additional instruments include TTS-1™, Cyclone™, and DreamStation™
NEW—Pure Space™ Convolution Reverb
Additional effects include Lexicon® Pantheon™ Reverb, Sonitus:fx Suite (10 effects), many more
NEW—Updated MIDI FX plug-ins
NEW—Integrated inline audio and MIDI editing, arranging, and mixing all in one view
NEW—Envelope automation drawing enhanced with tempo-sync patterns, freehand, more
NEW—Object-oriented clip-based effects and editing including per-clip effects bin, clip-based effect automation, and more
NEW—BitBridge™ enables 32-bit VST effects and instruments in SONAR's 64-bit environment
NEW—Remove DC offset during recording
Dynamic Console View with per-channel EQ and assignable FX controls
Freeze for tracks, effects, and synths—unloads plug-ins, frees RAM, frozen audio is editable, Quick Unfreeze allows for toggling, more
SurroundBridge™—use your favorite stereo effect plug-ins in surround
NEW—Advanced step recording
Edit and print traditional staff notation
Professional Project File Management Tools: manage large projects effectively with Navigator Pane and Track Folders; per project audio directories; consolidate project files for fast backup; search for associated files; more
NEW—Video output to 1394 FireWire devices for high quality viewing with lower CPU and disk usage
Sync to and send SMPTE/MTC for scoring external video
OMFI & Broadcast Wave import/export for collaboration with Digital Performer, Logic, Nuendo, and Pro Tools studios
Import formats: AIF, ASF, AU, AVI (with stereo or 5.1 audio), Broadcast Wave, MIDI, MP2, MP3, MPEG, MPG, OMFI, QuickTime 6, SND, WAV (including 32-bit float files), Windows Media Audio 9 (WMA), WMA9 Pro 5.1, WMA9 lossless, Windows Media Video, proprietary Cakewalk formats (.bun, .cwb, .cwp, .wrk)
Export: WAV (including 32-bit float files), ACID™-format WAV, Broadcast Wave, AVI (with stereo or 5.1 audio), OMFI, MIDI, MP3 (30-day trial encoder), QuickTime 6, Windows Media Audio 9 (WMA), WMA9 Pro 5.1, WMA9 lossless, Windows Media Video (with stereo or 5.1 audio), and proprietary Cakewalk formats (.cwb, .cwp); other audio formats supported via external command line encoders