Sonible has launched smart:EQ 2, the first major update of its smart:EQ intelligent equalizer.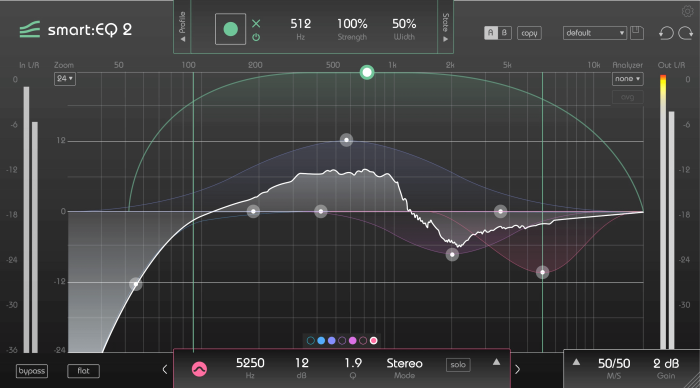 smart:EQ 2 combines state-of-the-art A.I. algorithms with the latest psychoacoustic research and decades of mixing and mastering experience. A completely re-designed interface offers users a significantly expanded set of features and an even more intuitive workflow.
With the update to version 2.0, smart:EQ receives a completely revamped graphical user interface, new filter types and an extended version of the award-winning smart:filter. smart:EQ 2 allows for fast global tonal changes as well as surgical precise EQing adjustments.

For studio and post production professionals, smart:EQ 2 speeds up repetitive EQing tasks. At the same time, musicians and aspiring beginners in sound engineering can process self-made recordings with more confidence.
sonible smart:filter technology – Groundbreaking A.I. technology for transparent mixes
smart:EQ 2 analyzes your audio material and generates a custom filter curve to create a natural sounding tonal balance. Add clarity to your mixes, more punch to single tracks or carve out the harsh parts of your vocal recordings – in seconds and with unprecedented precision.
The self-learning smart:engine generates a detailed filter curve tailored to the specific audio material. The intuitive control interface allows to easily adjust thus created smart:filter to your needs. Your track blends seamlessly into your mix or cuts like a hot knife through butter.
NEW: Pro interface update & M/S processing
Refine your audio production workflow with the updated super-intuitive interface design of smart:EQ 2. Reach your mixing goals in less time without sacrificing sound quality. Additional M/S processing options allow you to fully control the sonic space of your tracks. Last but not least, the musical and natural sounding filters of smart:EQ 2 turn it into your new go-to EQ.
smart:EQ 2 now includes the long-awaited pre, post and pre/post analyzer. And that's just scratching the surface of the updated feature set. For more flexibility, we added a tilt filter and the very handy M/S panning and Side balance function.
Custom profiles – Create, save, share
smart:EQ 2 includes new profiles for content-aware audio processing. Choose the profile for the sound source you are working with. The smart:filter will adapt to the characteristics of the signal. Edit, create, save and share your own custom-made profiles. Build your personal library and transfer profiles to your friends and partners. smart:EQ 2 becomes a tool tailored to your personal mixing style.
The human voice poses some of the greatest challenges in recording and mixing. Movie dialogues, interviews and vocals rarely come in pristine audio quality. With the new profiles optimized for the human voice, the smart:filter knows exactly how to tonally optimize any vocal content. This way profiles considerably speed up vocal editing tasks in film or TV post-production.
smart:EQ 2 for Windows and Mac (VST/AU/AAX) is on sale from Sonible and distributor Plugin Boutique for the intro price of $89 USD until November 1st, 2018 (regular $129 USD). Users of smart:EQ+ and any other Sonible plugin can upgrade at discounts of up to 92% off.