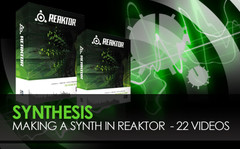 Sonic Academy has announced the next release in their video tutorial series, Making a Synth in Reaktor, a course on how to create your very own synth in Native Instruments Reaktor.
REAKTOR is a music software program that turns your computer into an incredibly powerful and versatile audio processing system. REAKTOR can be used as a synthesizer, sampler, effects processor, groovebox, step sequencer, and much more. It's completely modular structure ensures that no limits are imposed on your imagination in creating and utilizing electronic instruments and sound effects.

The first set of tutorials on synthesis introduced you to Native Instruments REAKTOR. We continue on with this in the 2nd part of our course, covering macros, lists, filters, panning and switches to name a few, and then finally finshing up our simple 2 oscillator synthesizer.
Making a Synth in Reaktor is now available for subscribers. Subscriptions for access to all Sonic Academy videos (100+ and counting; plus sample packs, resources etc) including the 'How To Sound Like' tutorials, are available for £59.99 GBP / $99.99 USD per year.
More information: Sonic Academy / Making a Synth in Reaktor