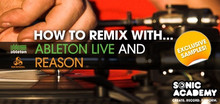 Sonic Academy has announced the release of How To Remix a new video tutorial on remixing, a must-have skill for any up-and-coming music producer.
Currently released with Ableton Live and Propellerhead Reason versions, the series will soon be completed with the release of "How to Remix with Logic Pro" and "How to Remix with Cubase."

In a Sonic Academy first, each pro tutor has taken the parts of the track "Stanley Kubrick" by new talent Clown Parlour and, using the features of their specialist software and in their own individual styles, have produced four very different remixes.

Over the course of these tutorials, we get inside the mind of the remixer to find out not only how each tutor used (and abused) the technology but what the thought process was behind putting together each massive remix.

The courses come with the stems of the original track so everyone can have a bash at producing their own remix.
How To Remix is now available to Sonic Academy subscribers. Subscriptions available at £29.99 / $44.99* a quarter or £99.99 / $159.99* for a full year (* exchange rates may vary).
More information: Sonic Academy