Impact Soundworks has launched Sonic Forest, a new Kontakt instrument library featuring sounds & synthesis in harmony with nature.
The library features recordings of a unique handmade instrument of the same name, which consists of various gauge guitar strings mounted to a box with a contact mic and line output. These strings produce deep tones that can be either harmonic or dissonant depending on how the instrument is struck or bowed. With our library, you can play various deep-sampled articulations traditionally, or feed them into the granular 'forest' engine.

Using the forest engine, you don't need to know about granular synthesis to create wondrous sounds. The UI has forest-themed knobs with matching visuals, like Flourish, Blossom, Sun, Shade, and Tangle, which all affect the sound of the granular effect. It's a very evocative and inspiring way to create sound that can be enjoyed regardless of the user's level of synthesis experience.

Other features include envelopes, microtuning, a six-module FX rack, and a poly-arpeggiator and sequencer with tons of features.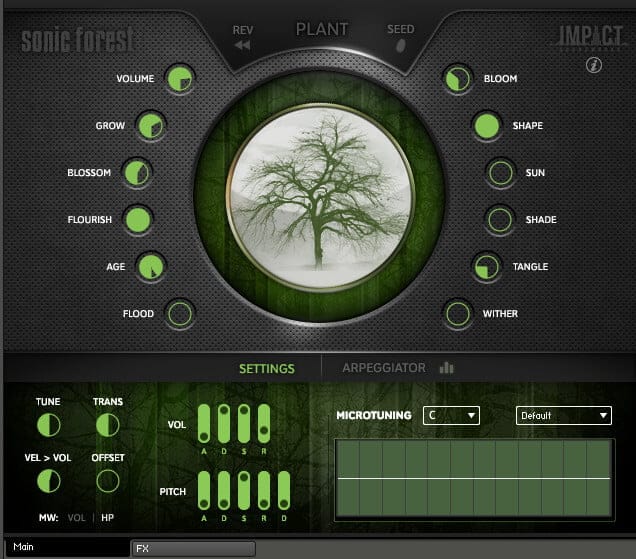 Sonic Forest features
One-of-a-kind custom instrument.
Mallet and bowed articulations.
Up to 3 dynamics / 5 round robins.
Harmonic and inharmonic timbres.
Breathtaking granular engine.
Inspiring and evocative visuals.
Poly arpeggiator & sequencer.
Custom microtuning engine & presets.
User sample import.
Sonic Forest for Kontakt 5.3 or higher (full version) is available for purchase for $20 USD. 25% off all sales will be donated to support Fauna & Flora International, an organization that has been working around the world to protect vulnerable habitats for over 100 years.
More information: Impact Soundworks / Sonic Forest