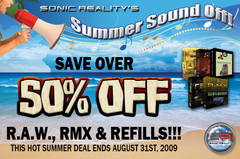 Sonic Reality has announed the Summer Sound Off promotion, offering over 50% discount on Refills, RMX Paks & R.A.W. Loops.
BIG SUMMER NEWS! Sonic Reality has started a Summer promotion called "Summer Sound Off" that saves over 50% off on deluxe sound collections for Reason, Stylus RMX and more!
Summer Sound Off promotion offers
ReMiX Gold DL Edition – The Ultimate RMX Loop Collection
The new ReMiX Gold DL Edition contains 15 Sonic Reality RMX Style Paks for download and instant use with Stylus RMX. In this power bundle you get over 8,000 grooves and 100,000 playable one shot slices. Loops include acoustic and electronic drums, percussion, bass, guitars, strings, voices, keys, hip hop sounds, electronic synths, world instruments, full construction kits and more. A complete toolkit of sounds for any style of music to add to your Stylus RMX.
Now $199.99 (regular MSRP $399.99)
Sonic Refills Gold DL Edition – 20 Workstation Refills for Reason 4
The Sonic Refill 4 Gold DL Edition bundle features 20 refills updated with the addition of new Combinator patches, Thor modular synth patches and more on top of thousands of NNXT multi-sampled instruments, ReDrum kits, Dr. Rex loops, Subtractor, Malstrom and other native sounds for Reason 4 users.
Now $149.99 (regular MSRP $299.99)
Miroslav Refills Gold Edition – Premium Orchestra and Choir Collection for Reason
Miroslav Refills bring you the top quality orchestral strings, brass, winds, piano, percussion, choir and other symphonic sounds from the legendary Miroslav Vitous archives and Philharmonik plug-in. Never before has such a complete collection of high quality orchestral sounds been available for Reason 3 and 4.
Now $149.99 (regular MSRP $299.99)
Sonic Refills Ultra Loaded – 38 Workstation Refills for Reason 4
If you combine the 20 libraries of Sonic Refills Gold with the 18 refills of the Ultra Series (taken from Ultra Hip Hop, Ultra Electronic and Ultra Symphonic) you get one ULTRA LOADED package with the ultimate sonic workstation of instruments, synths and grooves for every module inside Reason 4.
Now $249.99 (regular MSRP $499.99)
R.A.W. Gold DL Edition – The Ultimate Rex, Apple Loop and Wave Loop Collection
R.A.W. Gold DL Edition now allows users to download a massive collection of loops in their choice of Rex, Apple Loops and/or Wave format for instant compatibility with every popular DAW and Sampler. It includes the Universal Groove Kit plus 15 Style Paks, over 38 gigabytes of sounds and over 40,000 loops.
Now $249.99 (regular MSRP $499.99)
The Summer Sound Off promotion will end August 31, 2009.
More information: Sonic Reality