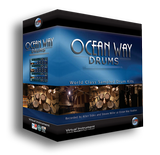 Sonic Reality has released Ocean Way Drums, a high end virtual drum instrument with the sound of a multi-platinum studio.
Two versions are immediately available.
Ocean Way Drums Gold Edition which is 24big/48k and 40 Gigabytes in size on 6 Dual Layer DVDs;
Ocean Way Drums Platinum HD which has both the Gold Edition discs as well as a high resolution 24bit/96k version that is 80 Gigabytes in size and preinstalled on a special ultra fast 10,000 RPM hard drive for optimal use.
Both editions feature 19 Drum Kits recorded in Ocean Way's famous Studio B where artists like Radiohead, Beck, Green Day, Eric Clapton, Paul McCartney and countless others record. It comes as both a 40 gigabyte sample library for Native Instruments Kontakt 3 as well as a Kontakt Player plug-in for Mac and PC with support for RTAS, VST, Audio Units and Stand Alone all in one package. It not only offers more control of the mix with up to 13 discrete mono or stereo microphone levels per drum but comes ready to go with 12 "mix presets" per kit made at Ocean Way by studio owner and Grammy-winning engineer Allen Sides and Steven Miller.
Ocean Way's Allen Sides says:
It wasn't enough for us as producer/engineers to say 'here are the discrete mic channels and good luck!' when we know a lot of artists also appreciate instant gratification. So we set out to take the drum sound of Ocean Way all the way to the end by providing the user with preset mixes from tight and dry to ambient and massive all just a few clicks away. All of this while still offering total control of the mix.
Ocean Way Drums comes with I-Map™, which offers expressive possibilities for creating drum tracks. The instrument was also programmed for Roland's top of the line TD-20 V-Drums®.
Shipping has started at the Winter NAMM 2008 with an MSRP of $995 USD for Ocean Way Drums Gold Edition, and $1,995 USD for Ocean Way Drums Platinum HD.
Visit the Ocean Way Drums website for more information.