Sonic Studio has released version 2.0 of Amarra sQ, a new utility that joins Amarra, Amarra Hifi, Amarra Vinyl and Amarra Symphony High Resolution Audio (HRA) software for file–based playback.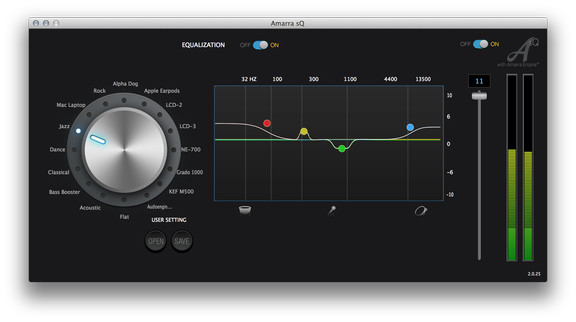 Amarra sQ is an in–line DSP (Digital Signal Processing) utility that provides real time equalization for any and all audio sources on Mac OS. Making use of two proprietary Sonic Studio technologies, Sonic EQ and SonicStream, Amarra sQ gives the user access to powerful "equalization" tools to custom tailor the sound of any audio source, from a CD or music file, to streaming movies and songs. Fourteen factory Sonic EQ presets correct the response of popular headphone models from Apple, Audeze, Grado, Mr. Speaker and others, while additional presets fine tune playback for popular music genres, from acoustic and classical to jazz and rock. An infinite number of user presets can also be saved and recalled at any time.

Installed along with Amarra sQ, SonicStream is a highly optimized, ultra–fidelity 32 bit software driver that routes the Mac's output to the input of Amarra sQ as its input "device." Amarra sQ takes that input, runs it through four bands of Sonic EQ equalization, adjusts overall gain and redithers the signal. The final output is then routed directly to the output device, bypassing Mac OS' Core Audio. Four redithering algorithms are available, including Sonic Studio's proprietary noise–shaped form, along with adjustment of resonant frequency for noised shaping as well as turn–off delay.

Recent trends in consumer audio have hastened the rise in popularity of HRA or High Resolution Audio, including new high resolution streaming services. With its superior 32 bit driver, plus Sonic EQ and redithering technologies, Amarra sQ is ready for new listening experiences in the home or at work. Chris Connaker, founder of popular web site Computer Audiophile, is convinced of Amarra sQ's merit. "I'm listening to TIDAL (HRA streaming) through Amarra sQ and I can't live without it now," Connaker said. "On my MacBook Pro, Amarra sQ makes all the difference in the world!"

Founder and company President Jonathan Reichbach developed the new software to enhance and personalize the audio experience for modern media consumers. "Everyone streams movies from YouTube and Netflix, or listens to music via iTunes, Pandora or Spotify," he stated. "Sonic Studio provides affordable, pro quality tools to make everything you listen to better."
Amarra sQ is available for purchase for $29.95 USD.
More information: Sonic Studio / Amarra sQ