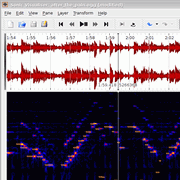 Sonic Visualiser, an application for viewing and analysing the contents of music audio files, was recently updated to version 1.8.
The aim of Sonic Visualiser is to be the first program you reach for when want to study a musical recording rather than simply listen to it.
Changes in Sonic Visualiser v1.8
Sonic Visualiser now registers as a file type handler on OS/X, providing better integration with the desktop generally (Dan Stowell).
There is a new function to toggle all Time Rulers at once (key #).
The CSV import dialog has been overhauled, allowing more flexible selection of purpose for each column.
Text overlays are now easier to read on dark backgrounds.
Hidden layers are now ignored when exporting an image (Dan Stowell).
A crash when starting a new session or exiting the application after loading a session with saved alignment data has been fixed.
The duplication of right-button menu functions when multiple files were loaded has been fixed.
The layer-add menu functions now have shortcuts (Dan Stowell).
The codebase has been reorganised into libraries and a configure step added. It should be easier to build and maintain on OS/X and Linux than previously, although it won't make much difference on Windows.
A Czech translation is now included (thanks to Pavel Fric).
Sonic Visualiser is distributed under the GNU General Public License (v2 or later) and available for Linux, OS/X, and Windows.
More information: Sonic Visualiser