Soniccouture has released Synthi AKS For Kontakt 2, a 1GB library with 146 advanced Kontakt 2 Instruments with original Synthi Spring Reverb Convolution processing.
The E.M.S. Synthi AKS (a Synthi A with additional KS Keyboard) is a legendary instrument that has been used by many experimental musicians (i.e. Brian Eno, Pink Floyd).
The Synthi has a unique patching system that uses a small patchbay grid. Each of the Synthi's components appear as a source and destination on the patchbay, and by placing a pin into that x-y position, you can route the signal from one component to the other, creating a very compact but powerful modular system.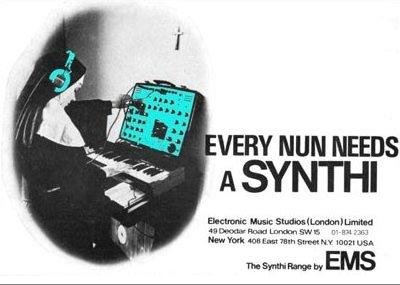 Soniccouture Synthi AKS Features
146 Kontakt 2 Instruments, 1GB 24-bit Samples

25 Multi-sampled Wave Instruments – 761 MB


Extensively sampled at 24 bit at various pitches across the range to best capture the natural response of the Synthi. Ring Mod patches are sampled on every note to ensure proper tracking. Each instrument has full envelope and filter control, and well as a Spring Reverb Convolution Send

94 Beat Machine Instruments – 133 MB


To capture the raw, unstable sound of the Synthi we sequenced it using a CV-MIDI convertor. This really shows the unique analogue behaviour of this incredible unit as the loops push and tear at your speakers. The loops are divided into a mid-tempo set (Acid loops), and a down tempo set. There is also a set of oddities that didn't fit into either category.

27 Hits and Effects Instruments – 143MB


This is the part of the library where the 'Vintage Sci-Fi' sound is most evident. The Synthi has been used extensively over the years to create spot effects for films and TV, and you will instantly recognise the unique character of the sound! Each Kontakt Instrument features a set of samples fully mapped with full synthesis control and reverb send.
Synthi AKS costs £45 (66.56 EUR) and comes as a 1GB download. Visit Soniccouture for more information and sound demos.