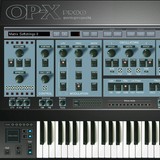 SonicProjects has updated OP-X PRO-II, a virtual synthesizer instrument for Windows.
While OP-X PRO-II version 1.0 has worked well for most of you, we've received some host specific bug reports and some driver incompatibility reports over the past months which we've collected and examinated, and we have worked hard to address them so that OP-X PRO-II offers a completely stable performance too in these special cases.

We're proud to be able to offer an 1.1 bugfix update now which should address nearly all of the reported possible issues.
Fixes in OP-X PRO II v1.1
Ableton Live 8: Crash when looping.
Ableton Live 8: Crash when jumping around in timeline.
FL Studio 10: No sound in wrapper.
Bank load button not working properly.
Problems with some windows system drivers (MME/Direct-X).
Problems with some USB and Firewire interface drivers.
CPU load rises to maximum although it's a modern CPU.
Not working in NI Kore 2.
Not working in NI Maschine.
Possible issues in Reaper.
Possible issues in Sonar 8.5.
Possible conflict with Yellow Tools Halls of Fame Origami.
OP-X PRO II is available to purchase for $110 USD until October 10, 2011 (regular $179 USD).
SonicProjects also released Reload 002, a free soundset which features edited, improved and new patches, including some of SonicProjects' all-time-favourite sounds. The soundset also works in the demo version.
More information: SonicProjects