Sonivox has released Film Score Companion, a comprehensive music composition software suite comprised of five individual instrumental collections, geared to the demanding needs of music, film makers and game creators.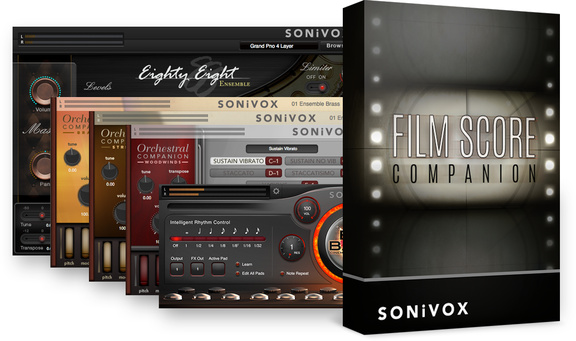 It's designed to be "the most complete, most accurate and lifelike, easiest-to-use music creation tool for music, films and games that has ever been done".

Film Score Companion plug-ins are fully compatible with any VST (32 or 64-bit), AU (64-bit), and AAX (32 or 64-bit) for ProTools 10.3 or higher Digital Audio Workstation (DAW) software.
Film Score Companion features
Orchestral Companion Strings
9 GB library comprising string ensembles for 1st violins, 2nd violins, violas, cellos and basses. Articulations include sustains, espressivo, staccato, pizzicato, tremolos and more.
Orchestral Companion Brass
5 GB library comprising Solo and Ensemble Trumpets, Solo and Ensemble Trombones, Solo and Ensemble French Horns and Tuba. Articulations include sustains, staccato, marcatto, mutes, and more.
Orchestral Companion Woodwinds
9 GB library comprising Piccolo, Flute, Oboe, English Horn, Clarinet, Bass Clarinet, Bassoon. Solo and ensembles versions of each as well as full woodwind ensemble patches.
Eighty Eight Ensemble
11 GB collection featuring a Steinway 9-foot CD337 Concert Grand, recorded in the same hall as the orchestral instruments for a perfect mix.
Big Bang Cinematic Percussion
15 GB library of 200 different percussion instruments ranging from classical to ethnic to pure raw power hits.
Film Score Companion is available for purchase for $299.99 USD. Each of the 5 collections is also available and sold separately. Customers who own Eighty Eight or Big Bang Cinematic Percussion are eligible to upgrade at a reduced price. Upgrades from any single part of the bundle are $149.99 USD each.
More information: Sonivox / Film Score Companion