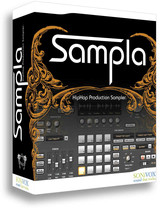 SONiVOX has released version 1.2 of Sampla, a software sampler designed specifically for Hip Hop producers and musicians.
Sampla is a professional Hip Hop production solution for those of you eager to make your mark on the world. Whether you're ripping from vinyl, importing loops, building your own badass drums, or simply jamming on one of over 200 included instruments, Sampla's got you covered. Like a sharp and shiny Swiss army knife glistening seductively in your production toolbox, Sampla can carve up anything you can dream of. So dream big.
Changes in Sampla v1.2
Pad 'One-Shot' mode added.
When enabled, one-shot mode allows for playback of an entire sample without the need to continuously hold the Pad that triggers it. One-Shot mode can be enabled individually on each of Sampla's 64 pads.
Three additional pad banks added to the Sampla Pad Grid.
Sampla now contains 4 discrete pad banks (16 pads per bank) for a total of 64 independent pads. Slice Mode now allows for 'Map to Pad' functionality to each of Sampla's 64 pads.
Sampla is available to purchase for PC and Mac, priced at $149.95 USD.