Sonnox has launched VoxDoubler, an audio effect plugin suite that focuses on the two most common vocal doubling workflows.
VoxDoubler comprises Widen and Thicken, two plugins that will help you achieve believable and natural sounding doubles.
Vocal performances lie at the very heart of a song. Doubling vocals is a really effective way of adding more contrast, drama and presence to the story of your song.

It's therefore hard to imagine much of recorded popular music without the special quality that double-tracked vocals bring to a mix, either used over an entire track or just to help a chorus or key lyric connect with a listener.
The Widen plugin generates two new mono voices and pans them to the left and right of the original vocal. Thicken generates a new stereo doubled voice and overlaps it with the original vocal.
Both plugins offer ease of use, real-time processing and results that sound as lifelike as if the doubled parts were actually multi-tracked.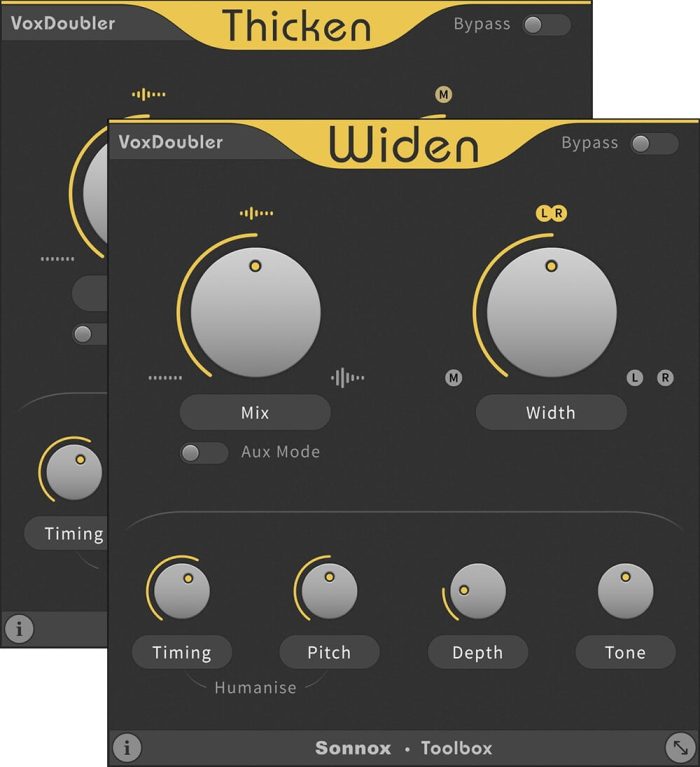 VoxDoubler features
Generate believable double and triple vocal tracks to create width, depth or add thickness.
Humanise section to adjust the Timing and Pitch of the doubles relative to the original vocal.
Depth control to push the new doubled voices deeper into the mix.
Tone control to prevent sibilant doubles from becoming distracting, or to brighten those that are too muddy.
Track/Aux mode allows you to apply the effect in place or, for more advanced control, mix it in parallel on an aux return.
A more cost-effective alternative, both in terms of initial outlay and speed of use, than more complex and manual processes.
Engineered for vocals, but try it on instruments too.
Hallmark Sonnox audio precision, transparency and reliability.
VoxDoubler for Windows and Mac (VST/AU/AAX) is on sale for the intro price of £55.13 GBP until February 28th, 2018. Regular price £69 GBP/$99 USD.
More information: Sonnox