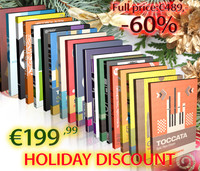 Sonokinetic has announced a special Holiday bundle, offering 60% off on a collection of its sample libraries.
Sonokinetic goes shopping, black friday, cyber monday and stretching to Christmas. Running from November 18th 2010 up to December 28th 2010
The Holiday bundle includes:
Toccata
Guns SFX
Carousel
Desert Voice
Felt Force One
Cop Radio FX
Drill SFX
Roots
Qs2
Spinet 1790
Rock Hard
Tigris & Euphrates
Toypianos
Trailer Voice
Turntablism
Carillon
Tubetone
H2O
Tibetian Prayer Bowls
The Sonokinetic Holiday Discount package is available to purchase for 199.99 EUR until December 28, 2010 (regular price 489 EUR).
More information: Sonokinetic / Holiday Bundle