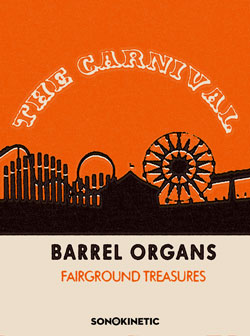 Sonokinetic has announced the release of The Carnival, a virtual barrel organ instrument library for Native Instruments Kontakt.
Ever since we recorded and produced 'Carousel' several years ago, we've been hearing so many positive reactions about it, and about the need for 'couleur locale' like this. Loving Carousel as much as we do, we decided to do an encore, a sequel if you wish. We infused this new instrument with a lot of the things we've learned and perfected over the years. Our scripting mastermind Ken Black added an ingenious script to glue it all together and make it feel and play as it should in proper Sonokinetic fashion.

For the recording we went back to Hilversum in the Netherlands and booked the same studio we used for Celesta. We teamed up with A.W. de Vogel, who comes from a long lineage of prolific organ-men in the lowlands. He brought along two of his most cherished barrel organs, a small hand operated one, and a larger one powered by an electric motor, that we barely got through the studio entrance.
The Carnival features
470 MB sample pool, 850+ samples (44.1 kHz, 24-bit NCW format).
Big and Small organs with 4 registers respectively.
Organ percussion and sampled Tremolo for the large organ.
Octave Doubling.
Automatic Tempo-synced trills (major and minor).
Tempo-synced runs in 5 scales.
'The Carnival' Bespoke Reverb.
Sampled Bellows Noise.
Custom designed interface.
Open Kontakt format for complete user customisation (Kontakt 4.2.4 or 5 full version only, NOT compatible with the free Kontakt Player).
The library is available to purchase for 69.90 EUR.
More information: Sonokinetic / The Carnival