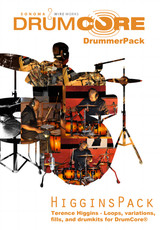 Sonama Wire Works has announced the release of the HigginsPack, a new DrummerPack for DrumCore.
Terence Higgins, drummer for The Dirty Dozen Brass Band, brings DrumCore users unique New Orleans marching style drum loops, variations, fills and drumkit sounds with a dash of hip hop, funk, R&B, and soul. Higgins says this DrummerPack is "guaranteed to add a little grease to your tracks."

HigginsPack was recorded by the original Submersible Music team, and was pre-configured by them with metadata for use with the DrumCore search engine, which will help you find content based on feel (straight, shuffle, etc.), time signature, tempo and other criteria.
HigginsPack features
3.5GB of content including 7 DrumKits (24 pads each) that match 7 GrooveSets (360 audio loops, 427 audio fills, 97 MIDI loops and 41 MIDI fills).
Songwriter-friendly GrooveSets group related beats, variations and fills to serve as a construction kit for song creation.
All audio is 48kHz/24-bit and created in a pro studio using state-of-the-art digital (ProTools HD3) and analog (Neumann, Neve, etc.) recording equipment.
HigginsPack for DrumCore (2 or above) is available to purchase for $79.99 USD.
More information: DrumCore