Sonuscore has launched The Orchestra – Horns of Hell, a brand-new brass, organ and percussion library for Kontakt and the free Kontakt Player by Native Instruments.
The collection includes powerful brass patches from a huge 20 player brass ensemble with 28 articulations, plus all Total Orchestra articulations, 5 FX and phrase patches.
Master true brass power. Horns Of Hell covers everything from shining brilliance to the ultimate inferno – it's all on your modwheel!

Horns Of Hell is a massive brass, organ and percussion library, including a total of 67 varied articulations. It features absolutely unique and earth-shattering sections, like the mighty Tenor Horns or the profoundly diabolic Evil Brass.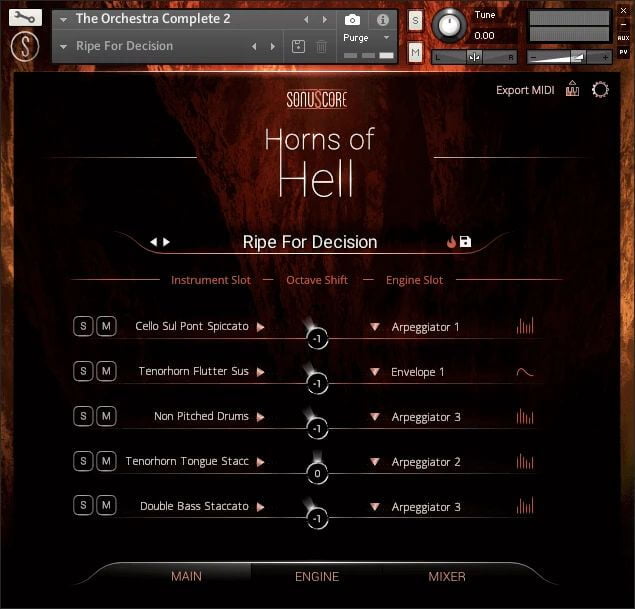 Horns of Hell features
Breakthrough Ensemble Engine.
Play freely or create stunning orchestral colors with simple chords.
Complete set of standard articulations for all instruments.
True Legato Interval Sampling.
71 ready-to-go ensemble presets.
45 Multi-Rack Patches.
8300+ individual Samples.
3.55GB of data (4.46GB uncompressed).
Fast loading times.
Horns Of Hell is available for $149 USD / 149 EUR.
The new library is also part of The Orchestra Complete 2, which combines the force of the original 80-piece orchestra with additional articulations and powerful features.
It now includes not only "Strings Of Winter" but also brandnew "Horns Of Hell". On top you will get new features like additional presets and multi-instruments, a revised preset browser, MIDI export and more requested features

In this revolutionary all-in-one package the sound of a symphonic orchestra is at your fingertips. With the groundbreaking ensemble-engine we created a super easy way for you to convert your ideas into music.
The Orchestra Complete 2 is available for 459 USD/EUR. Upgrades/crossgrades are available to owners of The Orchestra, The Orchestra Complete, Strings of Winter, and Horns of Hell.
Horns of Hell and The Orchestra Complete 2 are available from Sonuscore and distributor PluginFox.