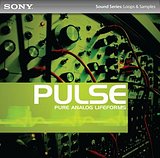 Sony Creative Software has released Pulse: Pure Analog Lifeforms, a rare and perfect exhibition of vintage and new school sounds.
Created by Richard Devine and Josh Kay —the team that delivered our top-tier Electronic Music Manuscript title —Pulse contains all the musical maps and charts you need to plan and execute your own fantastic voyage through entire worlds of electronica, hip-hop, and film music.
Pulse: Pure Analog Lifeforms features
397 (545 MB) original, royalty-free WAV files.
Classic analog sound streams tapped from hot Buchla, Doepfer and Cwejman electronics, and beat structures forged in a deep neural network of today's finest soft synths.
Royalty-free sounds, organized and fortified with spot-on metadata that ensures seamless playback in ACID software and every other program that supports .wav files.
Pulse: Pure Analog Lifeforms is available now for 21.95 EUR.
Sony has also announced the Richard Devine Pulse Composition Contest, in which you can win KORE 2 and various other prizes.
Richard and Josh have collaborated on the Original Track, "Pulse," for this Composition contest using loops from our new Pulse library, plus a bunch of new and exclusive content found only in this download package! Give the track a good listen, and then take the provided contest download and show these two stellar artists that you've got the skills to create an amazing mix of your own. Where could the music take you?
Visit Sony Creative Software for more information on Pulse, and ACIDplanet for details on the contest.