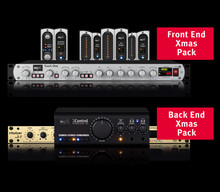 Sound Performance Lab has announced two SPL Xmas Pack promotions.
Celebrate Xmas until New Year's Eve and unwrap your SPL Xmas Pack until December 31.

The Front End Xmas Pack: Track One channel strip plus FREE EQ Rangers and TwinTube Analog Code® plug-ins.

The Back End Xmas Pack: SPL 2Control monitor controller for loudspeakers and headphones plus FREE Vitalizer® plug-in.
SPL Xmas Packs
Front End Xmas Pack – The Track One is one of the most sought-after channel strips in the world thanks to its great features and outstanding price-performance ratio. It's no coincidence that international radio and TV stations (like NDR, Radio France, etc.) pack their gear rigs with these units.
When you buy a Front End Xmas Pack you not only get a Track One channel strip but also two Analog Code plug-ins:
The EQ Rangers, a plug-in set that includes our Bass Ranger, Vox Ranger and Full Ranger EQ modules.
The Twin Tube plug-in, which puts the sound of one of the best tube processors ever at your fingertips.
Back End Xmas Pack – The concept behind the 2Control is ideal for DAW monitoring: two channels, two sources, two loudspeaker sets, and two headphones, everything under control with the 2Control. The features and sound of our most successful back end controller seem to also be winning fans among hi-fi experts: the German hi-fi magazine Stereo did a comparison test and the 2Control came out winner with a very unusual mark of 100 out of 100.
When you buy a Back End Xmas Pack you not only get a 2Control monitor controller, but also a Vitalizer Analog Code plug-in. Our patented Vitalizer sound optimization technology has been a favorite among mixing and mastering engineers all over the world for decades. The outstanding quality of our Analog Code programming can now faithfully translate that into the digital domain.
Offers are valid through December 31, 2010, at all participating dealers and subject to availability.
More information: Sound Performance Lab