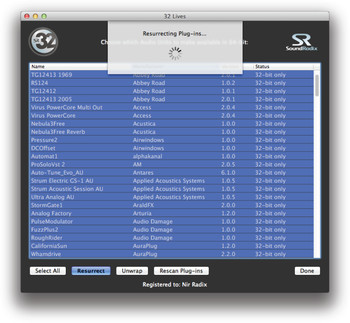 Sound Radix has announced the release of 32 Lives, a 32-bit to 64-bit Audio-Units plug-ins adapter.
32 Lives is a new application, capable of generating 64-bit Audio Units versions of your loved and hard-earned 32-bit legacy plug-ins, helping you to cross over to the new Logic Pro X smoothly and transparently.

Older Logic 9 sessions will completely load into Logic Pro X, including all presets, parameters and automation. No special re-wiring or routing is required. All your 32-bit only plug-ins will again re-appear in the plug-ins menu as they always did.
32 Lives features
Creates 64-bit adapter plug-ins for your 32-bit only Audio Units plug-ins.
Transparently loads your legacy TC PowerCore, Abbey Road, URS and other plug-ins into Logic Pro X and other 64-bit Audio Units compatible DAW's.
Fully compatible with older sessions, loads all presets, parameters and automation.
Ultra-low latency and high CPU efficiency.
GUI workflow is transparent and doesn't require additional clicks and windows.
Compatible with Logic Pro X, Mainstage 3, Final Cut Pro X, Garageband X, Live 9, Digital Performer 8, Studio One 2, Audition CC, and Tracktion 4.
Compatible with OS X Lion, Mountain Lion and Mavericks.
32 Lives for Mac is available to purchase for $99 USD.
More information: Sound Radix / 32 Lives