Sound Radix has released POWAIR, a radically smart compressor effect plugin for Windows and Mac.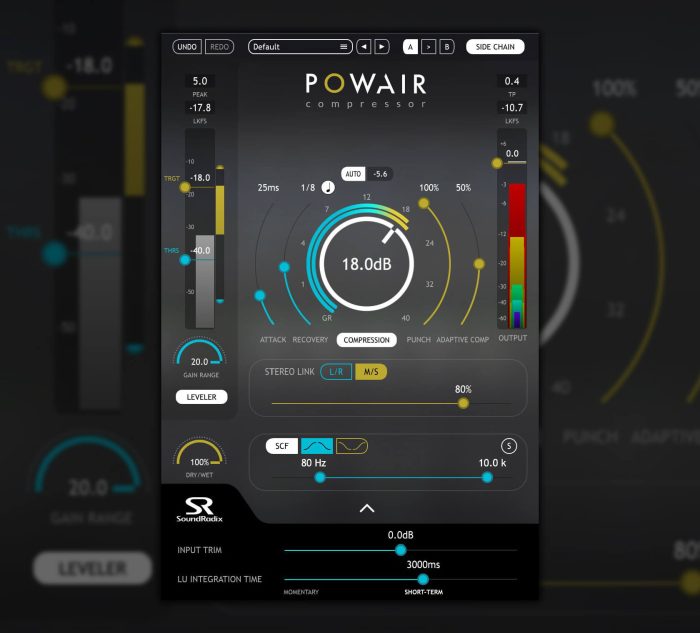 Designed to be a smarter, more natural sounding compressor, POWAIR is a dual-stage loudness leveler/compressor/limiter powered by a novel, proprietary compression engine which provides greater transparency and control than ever before.
POWAIR's compression engine allows for powerful dynamics shaping while maintaining the timbre of the source material, even when pushed to extremes. It enables greater control and transparency of the source's perceived loudness and intensity and brings a sense of power to vocals, instruments and mixes.

With innovative features such as Punch and Adaptive Compression, POWAIR offers an extra level of control over transients, enabling you to uniquely shape your sound while fully retaining the dynamics of the original performance.

Additional features such as L/R and M/S processing with variable stereo-link, bandpass and bandstop side-chain filter, tempo-synced recovery time, side-chain input and analytic auto-makeup gain complete POWAIR's comprehensive feature set.
POWAIR features
Novel, ultra-fast gain detection and reduction compression design.
K-weighted loudness auto-leveler.
Punch enables precise level control of transients during the attack period independent of attack time.
Adaptive Compression enables maintaining average compression for natural performance dynamics.
Machine learning-based perceived loudness auto makeup gain compensation.
Band-pass and band-reject side-chain filter.
External side-chain key input.
Mono, stereo and mid/side operation modes with continuously-variable compression link control.
ITU-R BS.1770.4-compliant LKFS and true-peak output level meters.
Available for Mac & PC, VST2/3, AAX and Audio Units.
POWAIR (VST/AU/AAX) is available at an introductory price of $119 USD instead of $149 USD.
POWAIR is also included in Radical Bundle 3, alongside Auto-Align, SurferEQ 2, Pi, and Drum Leveler. The bundle is available now for $499 USD (regular $599 USD).
Owners of any Sound Radix product can receive an even bigger discount and upgrade offer on Radical Bundle 3 from their Sound Radix user area. Users who registered Radical Bundle 2 after June 1st, 2017 are eligible for a free upgrade.
Users who purchase and register POWAIR until the end of 2017, either as an individual product or as part of Radical Bundle 3, will be entered into a weekly prize draw.
Individual plugin purchasers will get a chance to win another Sound Radix plugin of their choice. Radical Bundle 3 purchasers, should they win, will get a second Radical Bundle 3 to give to a friend! Terms and conditions apply.
More information: Sound Radix