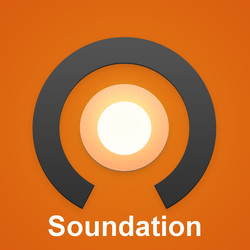 The Soundation Studio cloud based music creation app now features Soundation Songs Digital Distribution, which allows Soundation Studio users to release a song to Spotify, iTunes, Google Play and Deezer right from this sequencer in your web browser.
"Never before have you been able to make and distribute your music from one place", says Bil Bryant CEO of Soundation. "No downloading and going to another site or service. Once you have finished your song just click "release track" and up pops a query form to fill in and upload a picture, hit release and the track renders and is sent off to the aggregation queue to the selected digital stores/services. It is so exciting to finish a track and push it out to the world directly. This integrated digital distribution service not only gives an independent artist unprecedented control over their work but it´s also a fantastic value", continues Bryant. The Soundation Songs Distribution Service costs $20 a year and you can upload as many songs as you like while keeping 100% of your rights and royalties.

For the uninitiated, Soundation Studio is like the combination of GarageBand and Sound Cloud, a browser based sequencer with loops, real time effects, recording, virtual instruments and a community where you can publish, share and comment on tracks. Soundation Studio is also available as a Google+ Hangout app, which allows for up to 9 people to make music together with video chat.

With a million registered users and a few hundred thousand songs posted in the vibrant Soundation Community, Soundation has plans to create digital charts and other features to help stimulate listens and generate revenue for artists using the service. "Working together with community, artists can help each other in developing, collaborating and monetizing", states Bryant.
More information: Soundation