Soundcells has announced the release of Analog Signature Version 3, a new ReFill for Reason 4 and higher.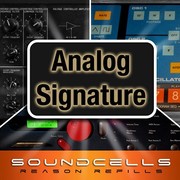 "Analog Signature V3" carries the wits and powers of four vintage beasts into this new era. Moog Source, Korg MS20, the Waldorf Microwave 1 and – from version 3 onwards – the Waldorf Pulse have been accurately sampled in such a way that their charming inaccuracies are still there in this perfect Reason environment in which Soundcells tooks their chance to add polyphony and velocity.

You'll get 500+ combinator patches containing beautiful analog sounds from the past as well as some mouth watering rex loops covering the old analog drum boxes. The user decides how retro or contemporary the sounds of this ReFill will sound in the music. It all matches almost perfectly with almost everything. Version 2 featured new samples from the Waldorf Microwave 1, 40 new combinator patches and great new backdrops – with version 3 this ReFill is extended even further with 40 combinator patches mainly based on these new Waldorf Pulse samples.
Analog Signature Version 3 features
506 combinator patches to keep you busy for quite some time – 40 new ones since version 3.
Classic synths: Moog Source, Korg MS20, the Waldorf Microwave 1 and the Waldorf Pulse.
Lots of analog drumbox rexfiles and loads of NNXT patches – the modules folder contains the basic patches which were used for the combinator sounds.
Extra high realism due to alternate sample switching, mostly three samples per note!
Analog Signature Version 3 is available to purchase for the introductory price of 39.90 EUR until February 20, 2011 (regular price 49.90 EUR).
More information: Soundcells / Analog Signature Version 3