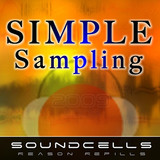 Soundcells has released Simple Sampling, a free ReFill for Reason.
At first we started working on a fun refill based on a Stylophone we recorded for sampling purposes. So we started sampling this little toy note by note. Besides programming a patch that matches the real thing we also tweaked the nnxt to go some extra steps. Some fat funky clavinet-style patches caught us by surprise.

While producing a first mini track (apart from the loop it's entirely based on stylophone samples) we added some extra cool stuff to this refill: a "single-sample-rhodes", a "single-sample-piano", a "single-sample-kalimba" and some other nifty stuff…"Simple Sampling" – the name speaks for itself!
Simple Sampling features
25 combinator patches mainly based on Stylophone samples, a Rhodes-like patch that really feels great while playing the keys, mouth watering atmospheric content and some retro oriented surprises.
A note by note (a2 – e4) sampled and looped Stylophone including it´s typical release click.
"Simple Samples" coming from the Rhodes Mark 1, Doepfer MS404, a mini kalimba, a piano, a bassoon…
10 Rex loops.
The Simple Sampling ReFill is available to download on request, free of charge.
Soundcells has also announced a "Before-And-After-Christmas" sale:
While the last days before Christmas are knocking at our door it´s time for us to offer you something special. Along with regular Christmas sentiments we´d like to present you with an almost 30% discount on most of our products! This offer starts now and will end on January 10th.

Put a SOUNDCELLS refill on your wish list for Christmas so you won´t get another pair of socks, your third toaster or a bad bottle of sour wine coming from a good and sweet heart!
More information: Soundcells / Simple Sampling