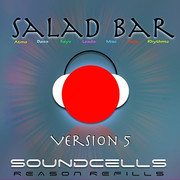 Soundcells has released Salad Bar Version 5, the latest edition of the ever growing ReFill.
Every time when a new Soundcells ReFill will be released, Salad Bar will get its next update. And in this way Salad Bar versions 2, 3, 4 etc, will be created. Besides this, Soundcells will also be developing lots of unique 'Salad Bar Only' patches. With the coming of Greenhouse it was clear that it wouldn´t take very long for Soundcells´ evergrowing Salad Bar ReFill to get its latest update.

So they put 20 Greenhouse patches in there and they also added 15 exclusive Salad Bar patches (75 SB-exclusives in total now). With its 260+ combinators this ReFill becomes more and more a fully-fledged workstation. Apart from that it´s a real bargain and "must-have" for the user and an excellent ambassador for Soundcells.
Salad Bar v5 features
262 combinator patches in 8 different folders: Atmospheres & Textures, Bass, Keys, Leads, Miscellaneous, Pads, Rhythmic, SaladBar_exclusive (currently 75 'Salad Bar Only' ones).
261 well balanced patches for Thor, Malstroem, Subtractor, NNXT and ReDrum + 45 REX loops.
The modules folder contains the basic synth and NNXT patches which were used for the combinator sounds.
8 tracks in RNS format, inspiring with high 'tutorialesque' value.
Salad Bar is available to purchase for €9.95 EUR.
More information: Soundcells / Salad Bar