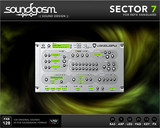 Soundgasm Sound Design has released Sector 7, a collection of patches for reFX Vanguard.
Covering a wide gamut of styles and genres including ambient, psy-trance, techno, acid, and house SECTOR7 delivers unique food for your favorite reFX beastie.
Sector 7 features
128 patches: 39 bass, 32 lead, 25 pad, 9 arp, 12 keys, and 11 sound fx.
Most patches respond to after touch (Vanguard automatically maps the modulation wheel to filter cutoff).
All bass patches are made with stereo effects (easy to switch to mono).
All patches were tested with themed style playing of phrases of music.
Sector 7 is available as a download, priced at $10 USD. A free demo bank containing 16 patches can be downloaded from the Soundgasm website.
More information: Soundgasm Sound Design