Audio Plugin Deals has launched the Soundiron Insane Bundle Deal, offering 86% off on a collection of 5 Kontakt libraries, including the Venus Symphonic Women's Choir.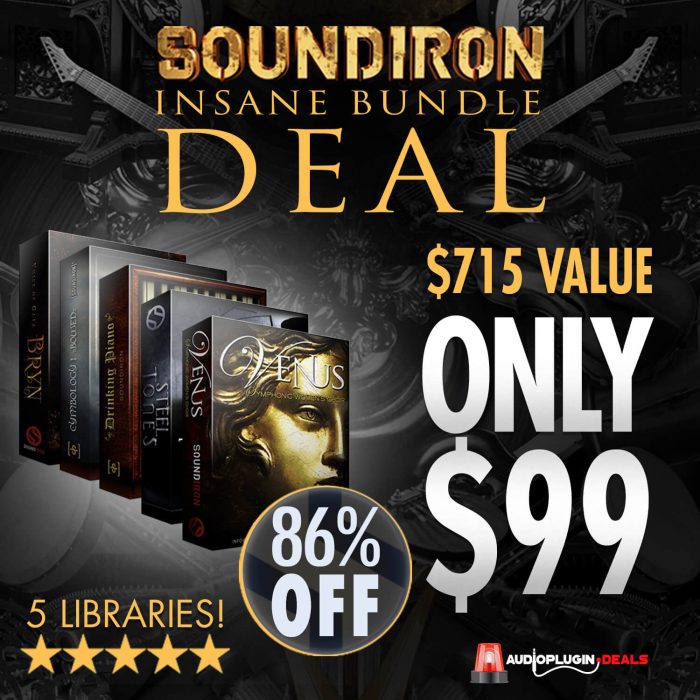 For just $99, get this insane bundle of 5 Kontakt libraries from SOUNDIRON with a combined value of $715. SOUNDIRON libraries are built with over 20 years of award-winning engineering experience and come packed with intuitive features and unique content that you won't find elsewhere. This deal expires on April 19th, hurry and save!
Soundiron Bundle features
Venus Symphonic Women's Choir ($399 value) features a full 33-voice female chorus and 5 soloists, singing in Latin and Slavonic (Russian liturgical), including a full range of standard vowel and consonant sounds. A wide variety of content is included for both languages, as well as a large collection of choral effects (shouts, sweeps, clusters, etc.).
Voice of Gaia: Bryn ($119 value) is a huge collection of male tenor vowel true-legato, sustains & staccatos, plus over 2000 live melodic phrases in classic vowel, Middle-Eastern & American gospel styles.
Cymbology ($79 value) is a massive percussion effects library built around bowed cymbals and gongs. We captured 20 unique cymbals, in all shapes, sizes, alloys and varieties, from crashes and splashes to gongs, bells, trashes and even a stack of spent WWII Howitzer artillery shells.
The Drinking Piano ($69 value) is a classic saloon piano, featuring an Ivors & Pond upright from the 1920s. It has a big, lush tone & tons of flexible controls to dial in that perfect level of inebriated cheer you're looking for.
Steel Tones ($49 value) is a multi-sampled metallic tuned percussion instrument library for Kontakt that captures the essence of a Hapi Drum. Built by Hapi Tones, the Hapi Drum is a hollow steel-chambered acoustic instrument measuring 12 inches wide and 8 inches deep (30cm x 20cm).
46.68 GB Installed size.
Massive 38,705 samples available.
24 bit / 48kHz uncompressed PCM wav audio.
Over 450 Kontakt instrument presets.
Unlocked Kontakt presets and wav samples to allow user customization.
Flexible and exquisitely recorded virtual choral and tenor libraries.
Requires full retail version of Kontakt.
The bundle deal is available for $99.99 USD until April 19th, 2017.
More information: Audio Plugin Deals