Soundiron has announced the release of Hopkin Instrumentarium: Tines & Echoes, an inspiring and distinctive series of bespoke, hand-made instruments for Native Instruments Kontakt 6 Player.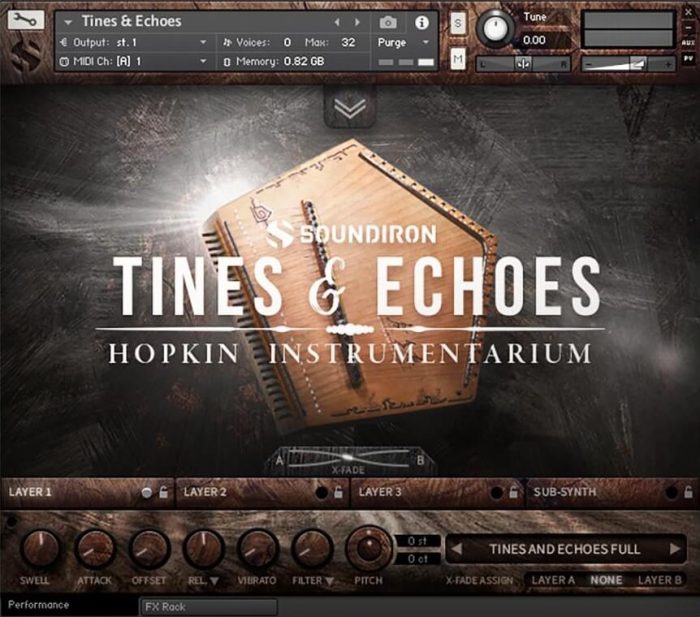 Tines & Echoes is the first installment in this expansive collection of unusual and inventive acoustic instruments.
Tines & Echoes is a unique hand-crafted tuned percussion instrument created by instrument designer and sound sculptor Bart Hopkin. It's a pentagonal sound box with 25 chromatically-tuned metal tines, each with a pair of sympathetic strings spanning the sound board. Rather than tuning the strings to their respective tines, they are tuned randomly so as to resonate in exciting and unpredictable combinations.

When the tines are plucked, they produce a sharp, crisp water-drop sound that reverberates through the sympathetic strings and across the instrument in a soft ghostly ring, reminiscent of the celestial wash you hear when playing the un-dampened top octave of a piano.

It's Made For Kontakt 6 Player and is compatible with Komplete Kontrol and S-Series hardware.
Tines & Echoes features
25 chromatic plucked notes with two microphone positions.
Percussive knock effects.
23 ambient effects, pads, and drones created from the source content.
20 custom sound designed FX and ambient presets.
Flexible and intuitive multi-layer user interface controls, with LFO, filter, glide, and arpeggiator.
Full FX rack with convolution reverb with custom rooms, halls, chambers & FX environments.
Tines & Echoes is on sale now for $29 USD (regular $39 USD). The offer expires May 14th, 2019.
More information: Soundiron