Soundiron has announced the release of Voice Of Gaia: Francesca Genco, a brand new exotic solo alto vocal library featuring the esteemed talents of Francesca Lilac Genco.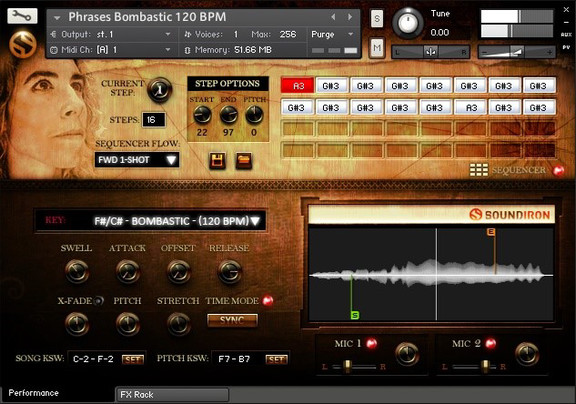 Her signature dark, evocative sound can been heard in numerous film, TV and game soundtracks, including Ryan Amon's Elysium soundtrack. She specializes in dramatic fusions of Mediterranean, Middle Eastern and Asian styles, creating her own language as she sings. This comprehensive library includes a complete selection of chromatic legato, sustain and staccato articulation types and powerful melodic phrases with complete sound-shaping and sequencing options in our full-featured GUI.

We recorded her in a studio environment, using two Neumann microphone types and Sound Devices preamps for excellent detail, dynamic range and clarity. We started with true legato for Ah and Oo vowels, plus a softly hummed Mm variant. There are also a variety of classic vowel sustains and staccatos (8x round-robin) playable over 2+ octaves. The huge collection of live melodic phrases includes Bombastic, Melodic, Bright, Atonal/Discordant and Whispering categories, all selectable by natural root key and tempo ranges. Our phrase sequencing system also includes auto-legato, step-sequencing, TM Pro tempo-synching and time-stretching, pitch transposition, attack/release and offset shaping and more.

Each of the two mic patterns (smooth omni & crisp cardiod) can be independently loaded, mixed and panned. You'll also find our comprehensive FX Rack panel, with multi-effects, compression, EQ, amp/speaker simulation and convolution reverb, with dozens of custom recorded rooms, halls, cathedrals and otherworldly fx impulses, all instantly available through the control interface.
Voice Of Gaia – Francesca includes 39 nki presets, 8327 unlocked wav samples and 6.7 GB. It is available for purchase for the introductory price of $99 USD until October 13th, 2014 (MSRP $139). Requires the full version of Kontakt 5.1 or later.
More information: Soundiron / Voice Of Gaia: Francesca Genco