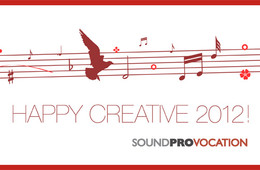 Soundprovocation has announced Happy Creative 2012, a limited time promotion.
Soundprovocation wishes Happy Creative 2012 and gives a chance to purchase their sound libraries with discounts up to -50%.
The offer applies to these libraries:
"Vocalotheque" – a vocal ensemble. 6.5 GB library, 76 patches.
"Ethnic Horns" – a full set of ancient wooden horns.
"Ethnic Panpipes" – an extended set of Baltic panpipes.
"Ethnic Bagpipe" – Baltic bagpipe in two tonalities – C and D.
"Sweeps & Whooshes V2" – an upgraded collection of sound effects.
The offer ends on December 31, 2011.
More information: Soundprovocation