Plugin Boutique has announced the release of SoundSpot's latest multi effect audio plugin.
Paradox features an EQ module designed to make push-pull filtering easy and a compressor module using an 'infinite' gain reduction setup, letting you emulate the behavior of analog compression with its continuous 'RMS-time' control.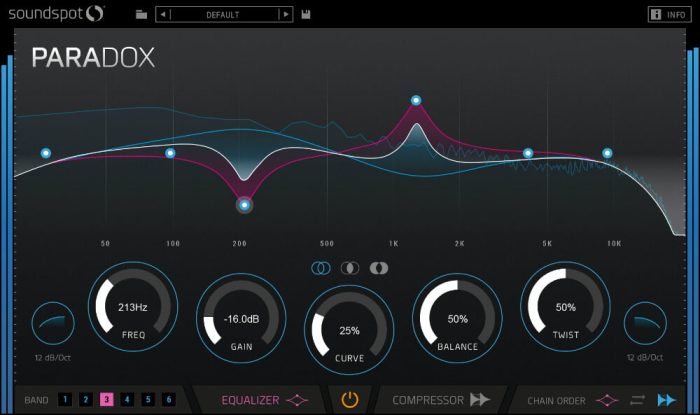 Paradox is a multi-fx plug-in that features an advanced push-pull equalizer and a variable RMS-time parallel compressor, both offering stereo, mid and side options.

Its clever signal path has an extremely pronounced character and lets you bring out certain elements in your mixes with incredible ease.
Paradox features
Intuitive, easy-to-navigate user interface.
Designed to work flawlessly with touch controllers such as the Raven by Slate Media.
Four powerful push-pull filters with intuitive and simplified controls, with stereo, mid and side mode.
Variable slope high pass and low pass filter with stereo, mid and side mode.
Variable RMS-time compressor for analog emulation.
High pass sidechain-filter for compressing tracks with loud kick and bass parts.
Mix control for creating parallel compression.
Preset manager to save & share your own effects.
Paradox for Windows and Mac (VST/VST3/AU/AAX) is on sale for only £18 GBP/$24 USD until August 1st, 2018.
More information: SoundSpot