SoundSpot has released Nebula, a creative multi-fx and delay effect plugin for Windows and Mac.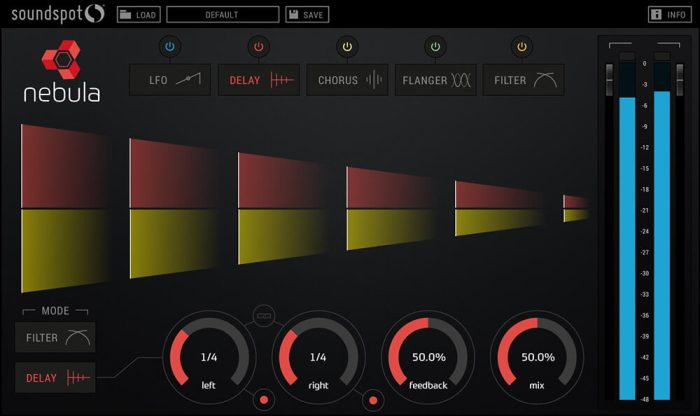 Nebula features 5 effect modules that can be used individually or in a pre-defined signal path.
Nebula is a multi FX plugin that includes a stereo delay, chorus and flanger which can be modulated by the LFO. The effects have been placed into a chain for a logical signal path that makes the most of each effect. However should you choose to use just one effect, you can do so simply by activating the effect of your choice.
Nebula features
Intuitive, easy to navigate user interface.
Designed to work flawlessly with touch controllers such as the Raven by Slate Media.
Stereo delay with visual feedback.
Quick target LFO to create movement to the signal.
Bandpass delay filter to sculpt the sound and remove unwanted frequencies.
Flanger effect to create unique movement to the delay.
Global bandpass filter that can be modulated.
Chorus effect effect to create unique movement to the delay.
Preset manager to save & share your own reverb designs.
Nebula (VST/AU/AAX) is on sale at a 90% introductory discount until November 6th, 2017, priced at just £13 GBP.