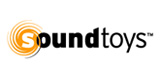 SoundToys has introduced PanMan, an advanced auto-panner with groove control for PC and Mac.
PanMan takes the process of moving audio back and forth in the stereo field and gives it that special touch that is uniquely SoundToys. It features a complete range of panning modes to recreate classic analog panners (such as the PanScan and Spanner) plus new modes never before available. With MIDI sync to tempo, preset storage, and automation, users get modern innovation alongside classic features from hard to find vintage analog hardware.
PanMan features
SoundToys exclusive Rhythm Mode with user programmable rhythm editor.
Ping Pong triggered panning with user definable trigger divider as found in the classic PanScan.
LFO style continuous panning with user definable pan shapes and dynamics control.
Random Panning mode synced to MIDI.
Random Triggered Panning with user definable trigger divider.
PanMan also features detailed control over the pan type, reaction time, pan position, and pan width. An extensive presets library is also included.
PanMan will be available in the 4th quarter of 2009 for TDM/RTAS/AudioSuite, AudioUnits, and VST. More details and demo versions will be posted at http://www.soundtoys.com/ as they become available.
More information: SoundToys