SoundToys has announced its Holiday Bundle Deal, a limited time promotion.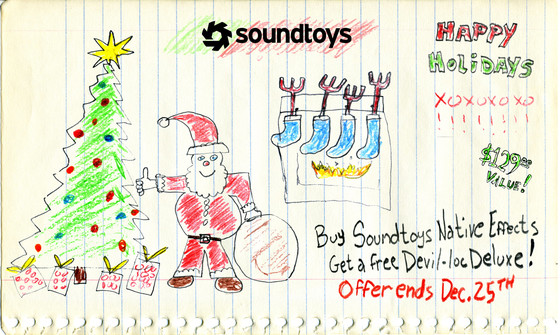 Buy a SoundToys Native Effects bundle and get Devil-Loc Deluxe for free. $129 value. Offer ends Dec 25th 2011.

All bundles purchased between Dec 1st and Dec 25th will have a free Devil-Loc Deluxe added to the deal. That's all the cool plug-ins in the bundle including EchoBoy, Decapitator, FilterFreak, Crystallizer, and more, plus the free Devil-Loc Deluxe. Click any of the product links to get more info and "Buy Now".

Act now before the Holidays and the offer is gone. Also applies to SoundToys TDM Effects.

Devil-Loc Deluxe Promotion for current bundle owners coming soon.
More information: SoundToys