Soundtoys has launched its 2016 Black Friday sale, offering big saving on its plugins and bundles, and a free copy of the Tremolator tremolo and auto-gate effect plugin.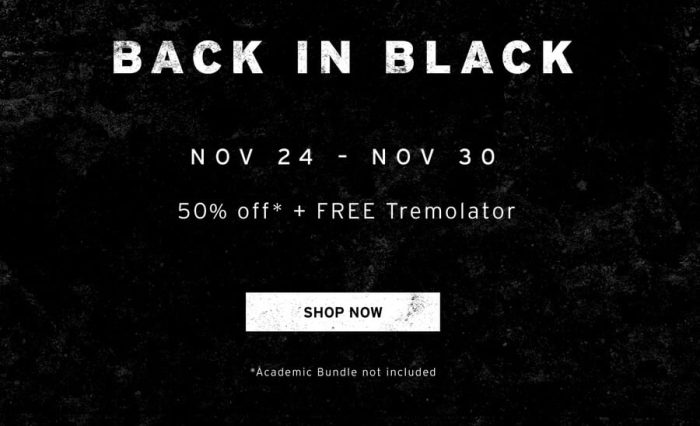 We're Back in Black again with crazy savings. Get Tremolator FREE and 50% or more off the bundle, upgrades and all single plug-ins (as low as $39!).

Soundtoys 5 $249 (reg $499)
Upgrades 50% OFF (log in for upgrade prices)
Tremolator FREE (reg $129)
EchoBoy $99 (reg $199)
Decapitator $99 (reg $199)
Crystallizer $69 (reg $149)
Devil-Loc Deluxe $49 (reg $129)
Little MicroShift $39 (reg $79)
…and more. See all sale prices.

Offers end November 30. Make some noise. Tell a friend.
Tremolator offers analog guitar tremolo effects and beyond with beat-synced rhythmic chopping.

Need tremolo? We've got you covered. Tremolator emulates the tremolo effect of classic hardware like the old Fender Vibrolux guitar amp, and even the great tremolo sound of the Wurlitzer electric piano.

We added dynamic control of speed and depth that lets the tremolo respond to the music, and then tossed in MIDI sync to lock to your tremolo to tempo. Of course we also included our programmable Rhythm Editor that let's you write custom patterns and turn Tremolator into a outrageous rhythmic auto-gate. Vintage guitar effect and modern remix tool at your service.
Tremolator is a free download for Windows and Mac (VST/AU/AAX) for a limited time only. Requires iLok.com account (dongle not required).
More information: Soundtoys